The price, $/meter
to 500 m
from 500
to 1000 m
from 1000
to 5000 m
от 5000
to 10000 m
over 10000 m
0,24
7,00
0,19
0,19
contractual
Harpoon – an obligatory element of any tension ceiling. The basic functions of a harpoon are the tension of a film and the prevention of its sagging eventually, and also film fixing in a baguette. The first the French companies began to use this technology, for today it is actual all over the world.
Except direct fastening of a cloth on perimeter, the harpoon provides stability of a tension ceiling to leakings - the film keeps and doesn't pass water thanks to a harpoon.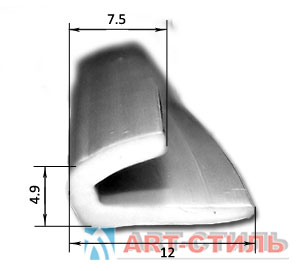 Modern manufacturers use two types of harpoons, for invisible and visible baguettes.
Harpoon L approaches for welding on all types of machine tools TVCH with any equipment for a harpoon. Harpoon L has the extended leg which provides convenience of work on the Taiwan equipment.
The harpoon intended for fixture on invisible baguettes, is usually imperceptible behind a ceiling cloth, besides, it can be disguised in addition – a special insert, or a cap. The cap closes a crack which is formed between a ceiling and a wall thanks to what the effect of a monolithic design is created, and the tension ceiling looks ideally. The insert can be the different colors which choice is defined by color of a tension ceiling.
The harpoon intended for visible profiles, at fixture disappears behind a visible part of a ceiling – a baguette. This type is used less often because for such harpoon it is necessary to select a baguette, accordingly, visible, usually from plastic. The majority of Customers prefers to hide these elements of tension ceilings, more often so more esthetic kind turns out. However for design interiors such variant frequently is more advantageous and the visible part of fastening can favourably shade specificity of an interior.
We offer both variants of harpoons – the choice depends on preferences and taste of the Customer.a